In a highly competitive market where there is a certain advocacy of mass mandates, Winsome Immobilier strongly believes in the added value of exclusive mandates. Based on its need for mutual trust, Winsome prefers to work on quality and not quantity, which is why Winsome prioritizes its premium mandate above all.
We explain here why this philosophy :
BEST VALUATION 
The exclusive mandate allows us to put in place all the tools available to the agency in order to sell your property quickly and at the best price !
Winsome Immobilier is convinced that multi-agency distribution only devalues the property by diluting its potential on the market. For us, the simple mandate that puts all the real estate agencies that own it in competition with each other, ultimately produces a contradictory effect to the seller's expectations because no agency is really involved in the property.
On the other hand, the exclusive mandate is a pledge of confidence that the seller gives us, which is why in exchange for the exclusivity we set up our entire promotional arsenal without any restraint: professional photos, drone shots, promotional videos, Virtual home staging (if necessary), 2D and 3D modeling, website, portals, extended distribution, extended communication strategy on social networks, specialized press...
FASTER SALE AND AT THE BEST PRICE
What Better Than Numbers To Prove The Effectiveness Of The Exclusive Mandate
77% of exclusive mandates sell in 3 months !
2 times more than simple mandates!
Beyond that, don't you think that posting your property in several agencies, which sometimes have different prices, will just generate distrust among potential buyers? 
Why is this property displayed in several agencies? Does he have trouble selling himself? Is he hiding something?
We are convinced that, on the contrary, thanks to the exclusive mandate, scarcity arouses the interest of customers: they are reassured and see the ad more credible. 
With the exclusive mandate, you assure your customers that the goods are sold at the fairest price!
In short, in France, exclusive mandates represent only 10% of agency mandates, while they represent 40% of transactions. In other words: goods under exclusive mandate sell much better!
 COMFORT FOR THE SELLER
The transaction of real estate is an important step in life, do not embark on this adventure without a wise expert by your side. It is important to have total confidence in the professional who will manage your property, its marketing, promotion, visits, administration, legal and tax advice.
And thanks to the exclusive mandate, you entrust these heavy tasks to a single professional, with whom you will create a privileged and exclusive relationship of trust. He will be your unique point of reference on the market.
Isn't it a comfort as a seller not to have to exchange and manage 3 or 4 different real estate agents? It is a guarantee of quality and transparency, you control your sale to perfection, and it is a real time saver, you remain calm, zen and your project moves forward!
Winsome undertakes to be available and to carry out a real follow-up thanks to regular reports of visits by email or telephone. Thanks to the exclusive mandate, Winsome will accompany you in the best possible way at every step!
EXCLUSIVITY DOES NOT EXCLUDE COLLABORATION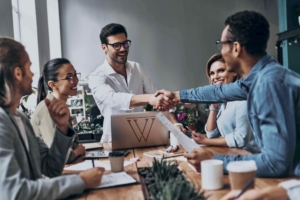 Winsome advocates inter-agency collaboration. So for you seller, exclusivity will not close you to any opportunity, it brings you all the advantages of exclusive marketing without any inconvenience. 
We do not use inter-agency sharing software, but two: Interkab and Apimarket. This software allows us to distribute and share our property with other agencies and their potential buyers. Your property will not lack visibility. Thanks to Interkab and the Apimarket, you entrust us with your property exclusively, but your property is visible and its potential is multiplied by the number of member agencies. 
LIMITED TIME
Finally, when it comes to signing a contract, we know that it is sometimes difficult to commit to too long a period, in general our mandates are signed over a period of 3 to 6 months. This is to give you the time necessary to work your property well and show you all our professionalism. Often enough time to sign an offer and if not, our goal is that you are so happy to work with us that you will extend your term.
It is the Winsome satisfaction that we are looking for.
We hope to have cleared your doubts about the premium mandate. And above all,  having convinced you that the exclusive mandate is a mandate of trust and efficiency. Please do not hesitate to contact us if you have any additional questions, we will be happy to discuss them with you.
See you soon on the Winsome Immobilier Blog!